Hiboo develops a software that helps construction companies optimize their field's operations. Hiboo centralizes the data collected from all connected equipment on a single end point and turns them into actionable insights. Hiboo was a member of Leonard's first CATALYST program, in 2020.
Machine26 develops a software that helps construction machine owners inspect and sell their machines. The M26 Inspection App collects all relevant data on the machine condition so that users can receive the best offer from international used dealers. Machine26 is a member of Leonard's 2022 SEED program.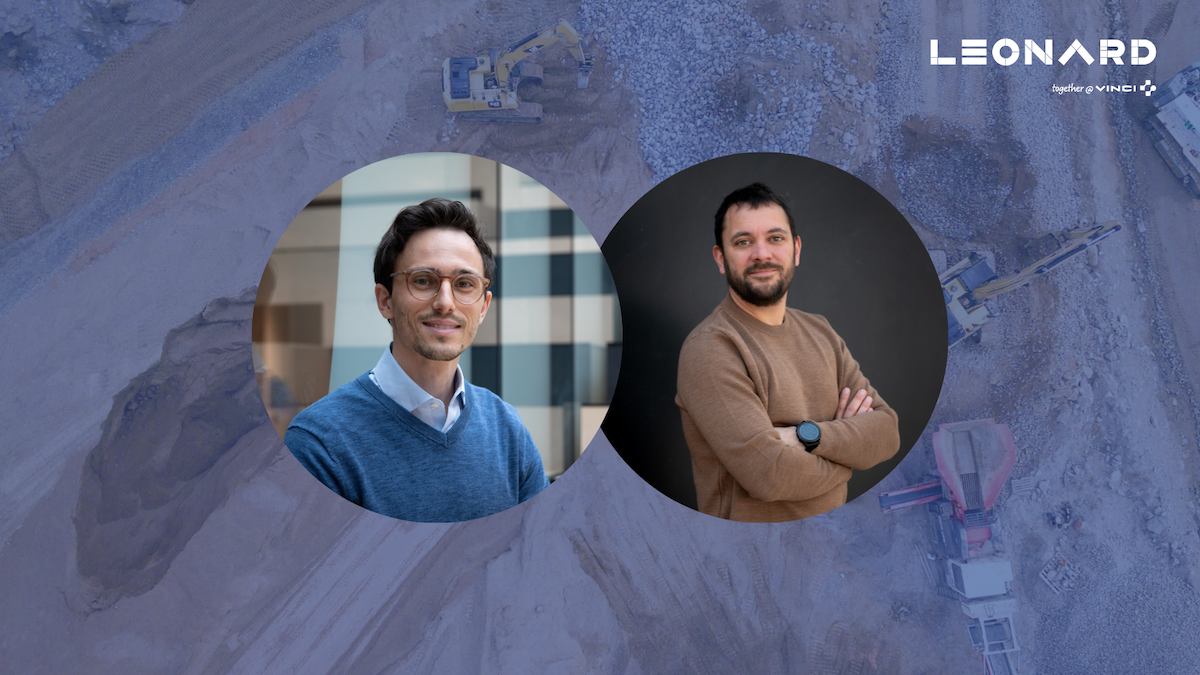 What challenges do you see in equipment management today?
François Jacob (Hiboo): Just behind the agricultural sector, the construction industry is one of the most under-digitized industries in the world. This means that this sector does not take advantage of the data produced to gain in competitiveness and efficiency.
However, we are faced with a real paradox: almost all construction machines have been connected by machine manufacturers for more than a decade, and yet, very few construction companies know how to take advantage of it.
The main reason why is that most construction companies have heterogeneous fleets in terms of manufacturers.
However, these few indicators can represent thousands of euros in annual savings when the data of the fleet is centralized in a single point and turned into actionable insights.
Steffen Schweiger (Machine26): Indeed, today there is no or only detached collection of machine data during the lifecycle. Available data is distributed among different heads and systems. Therefore, companies cannot draw valuable insights. Ultimately, they make poor decisions in procurement, operations and sell-offs and lose time and profit.
Selling-off at the end of the lifecycle is time-consuming due to a lot of paper-based and analogue processes: relevant machine data needs to be collected from different sources and using different interfaces, many interactions with potential buyers are necessary. In addition, decisions often cannot be based on many data points and possibilities are limited to regional offers.
All this results in efficiency losses that can be avoided by switching to digital solutions. For machine owners, it is also a challenge to get a real market price (not just a price from few buyers) and to comply with compliance regulations.
How is your startup contributing to answering these issues?
Steffen Schweiger (Machine26): Machine26 is a re-selling solution for used construction equipment. Our digital tools enable construction companies to easily re-sell machines in a compliant way. Thus, they have more time to focus on their core business.
Using our Inspection App, construction companies also get an overview of the condition and value of their machines at all times. This data is important to optimize machine lifecycle management.
Machine26 is a member of Leonard's SEED program and the solution is already used within the VINCI group, e.g. by Eurovia.
François Jacob (Hiboo): Hiboo is an Equipment Data Platform that helps companies maximize the productivity, profitability and sustainability of every moving equipment involved in a construction project.
To do this, we have developed a catalog of more than 60 data sources including the major manufacturers of construction equipment and trucks (Caterpillar, Volvo, Komatsu, Renault Trucks, etc.), telematic companies (Trackunit, Geotab, Ocean), and external sensors (IoT, tire pressure, fuel tank level). We normalize all this data and provide our customers libraries of pre-formatted reports to help them make the best decisions on the management of their fleet: usage measurement, cost optimization, idle rate reduction, CO2 report, and much more.
Finally, this data can also be delivered within software solutions of the construction market, such as SAP, Salesforce, Procore or BLG. We currently process data from over thirty thousand construction machines worldwide, in over 50 countries.
How do you evaluate the real value of the machine? What are the challenges related to that?
Steffen Schweiger (Machine26): By asking the market! On our platform, professional buyers can place a bid on the machines. Thus, the seller gets the best offer out of the network reflecting the real market price at this specific moment in time.
François Jacob (Hiboo): And we can help M26 by providing them with the data of the machines sold on the second-hand market! Indeed, for a buyer, it becomes essential to know the history of the machine, its maintenance periods, its error codes, and the idle rate during which it worked. This new data brings confidence and serenity to the buyers of used machines.
What challenges are you facing in terms of growth? What's the best way to get to your clients and onboard them?
Steffen Schweiger (Machine26): More and more customers are switching to our solution which is great and makes us happy. However, the current market situation is quite challenging. There is a shortage of new machines. As a consequence, machine owners do not sell as many used machines as usual.
To foster digital change in the construction industry and to increase the acceptance of digital solutions, it is important to involve users in product development. At Machine26, we worked closely together with workshop employees in order to build our Inspection App. We do not want digital change to happen overnight, but step by step and hand in hand with our customers.
François Jacob (Hiboo): The main challenge we face is to make our clients aware of the value of their data. It is sometimes difficult to realize that hundreds of thousands of euros can be saved every year by monitoring equipment fleet thanks to data.
Secondly, we decided to co-create our product with our customers and users: they are in the best position to help us design the reports they need based on the equipment data. This is the best way to ensure that the product we develop will be used and shared throughout the company.
Finally, we have decided in our strategic roadmap to focus our business and product development on the rental industry. Indeed, the construction equipment market is tending according to us towards a long-term rental business model, instead of buying its own equipment. So, our customers in the rental market have a double interest in using Hiboo: on the one hand, they are able to better manage globally the rented fleet (usage, fault codes), and on the other hand, it allows them to bring innovation to the market, by offering the Hiboo platform to all their customers, to consult the data of the rented fleet, which is totally unprecedented on the market.
How can solutions such as these contribute to reaching sustainability targets?
Steffen Schweiger (Machine26): Machine26 is a tech-driven solution for trading used construction machines. Our contribution to a sustainable construction industry has two dimensions: on the one hand, we are supporting the change to more eco-friendly machines and, on the other hand, international trade maximizes the lifecycle and utilization of already produced machines.
Thus, we help our customers to reduce their carbon footprint. In addition, we promote a sustainable organization way of working within the startup.
François Jacob (Hiboo): Sustainability is a major issue for the construction sector, which is now one of the biggest contributors to CO2 emissions in Europe. The good news is that equipment data can drastically reduce the carbon footprint of an equipment fleet.
If I had to choose only one indicator, it would probably be the idle rate. The idle rate, expressed as a percentage, is a measure of the time an engine spends idling. The average idling rate of construction equipment in Europe is nearly 40%! Reducing the idling rate of a machine by one hour per day amounts to removing two light vehicles from the roads. When we know that one hour of idling costs about 50 USD, the challenge is as much ecological as financial.
And it works! One of our main customers managed to reduce its average idle rate from 32% to 26% in less than 6 months, on a fleet of over two thousand equipments.
Contacts :
François Jacob, co-founder and CFO, Hiboo : francois.jacob@hiboo.io
Steffen Schweiger, founder and CEO, Machine26 : steffen@machine26.com