Four experts participated in this roundtable discussion moderated by Yuki Esser, of the Dutch Marine Energy Center: Robert Cavagnaro, PhD, Mechanical Engineer, Pacific Northwest National Laboratory (USA); Marcus Lehmann, Co-Founder and CEO, Calwave (USA); Irina Lucke, Division Manager, OMEXOM, VINCI Energies (Germany); Rita Sousa, Partner, Faber Ocean / Climate Tech (Portugal).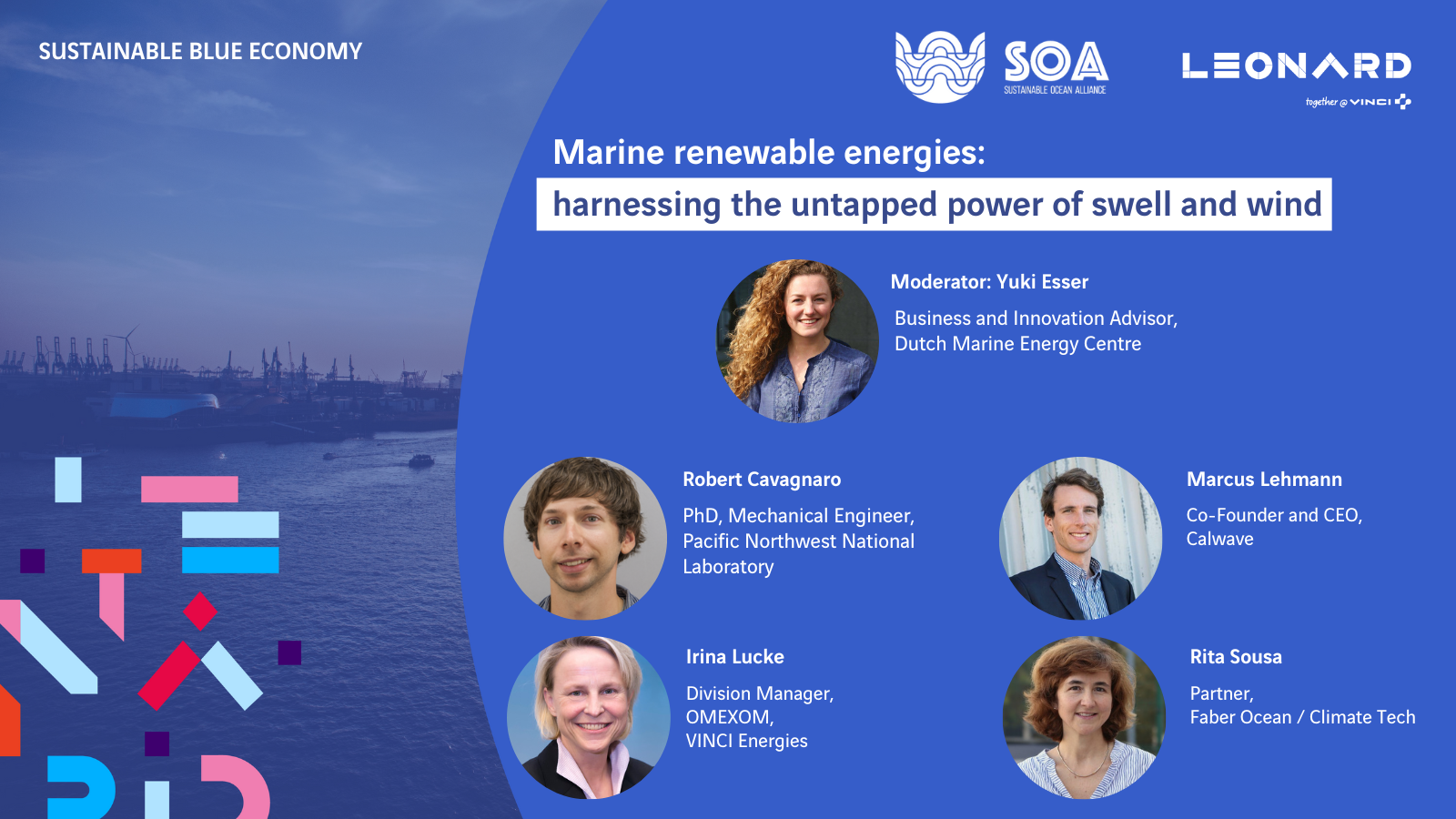 An industry with enormous potential
Marine energy technologies will play a significant role in powering ocean economy end-use applications (e.g., by contributing to the electrification of the shipping industry) and in large-scale climate remediation and CO2 removal technologies, says Robert Cavagnaro, of Pacific Northwest National Lab, a U.S. Department of Energy Research Laboratory with a large portfolio in marine energy research.
Rita Sousa, a partner in Faber's ocean and climate tech fund (a €40M fund launched in January 2022) mentions significant market opportunities: the offshore wind energy market is estimated to reach $87B by 2026, growing at a compound annual rate of 13%, while the tidal and wave energy market should grow by 40% annually and is valued $ 3-5B. These figures show the need for early-stage startups to devise new technologies and serve this market demand. Faber actively invests in such startups, seeking out innovative deep-tech companies that are developing high-impact solutions for ocean sustainability and climate action. One vertical within the fund focuses on enabling technologies, with the potential to increase the efficiency and longevity of offshore renewables, a market where Sousa sees strong potential.
Marcus Lehmann, the CEO of Calwave, a wave energy tech provider based out of the Lawrence Berkeley National Lab, notes that 30% of the electricity demand in the EU and the US could ultimately be served by marine energy. Additionally, approximately 120 GW of offshore wind are currently installed and planned with a 50% capacity factor, which means about 60 GW of excess capacity are available globally, says Lehmann. This means offshore wind developers should anticipate the moment when tidal and wave energy are ready for utility-scale farms, as there will be significant opportunity in colocating them and placing them on the same export infrastructure, thereby increasing the capacity factor, reducing cable payoff time, and multiplying synergies, from spare parts to maintenance.
Significant challenges ahead
For Irina Lucke, of Omexom, a VINCI Group service provider for the lifecycle of offshore power plants, one main challenge lies in setting clear goals. If we aim to fight climate change and help marine energy reach the next level, says Lucke, we must discuss priorities and co-use as early as possible and avoid the mistakes made with offshore energy. Co-use with the shipping and fishing industries, environmental actors, the navy, and other actors is proving to be a pain point because the discussion began too late in the process, creating frustration for many stakeholders.
For Robert Cavagnaro, marine energy actors must show that the technology works and provides real value to the markets it serves. This means taking these technologies to places with high energy costs, where they have the potential to greatly impact people's lives. For Cavagnaro, the industry must also better convince other actors that marine energy technologies are safe, by communicating on their benefits for the environment. In the US, the offshore wind industry has been hampered by NIMBY ("Not in my backyard") sentiment, an experience marine energy should learn from, says Cavagnaro, who also highlights the importance of sustaining strong government-industry partnerships, immune to political fluctuations, for bringing these new technologies to market.
Where to go from here?
The next step should be a commitment to the energy transition at the EU scale and the setting of a  clear roadmap, starting with the goal we want to reach and working backwards, says Irina Lucke.
For Rita Sousa, additional specialty private funding and VC funding must now be brought in to back the new generation of marine energy entrepreneurs and bring them from pilot to market. Sousa also mentions facilitating the navigation of the regulatory framework to allow these marine energy solutions to scale up.
For Marcus Lehmann, the emphasis should be on finding mechanisms to finance early stage technologies and incentivize the first 500MW or 1GW, bridging a gap not currently covered by traditional financing, which comes in only later, when technologies have significantly matured.
Startup Pitches: Calwave, Ecowave Power, Floating Power Plant, SWAC/Geocean
Our panel discussion was followed by pitches from four innovative companies working in the field of sustainable marine technogy all over the world.
Renewable energy is needed to move away from fossil fuels, but storage can often prove insufficiently economical. In this regard, wave energy presents significant advantages: it is consistent, predictable, and extremely abundant. Calwave is a California-based wave energy tech provider whose technology operates at a distance from the coast, where energy capture is more efficient, and is fully submerged, thus easily sheltered from storms. It received the U.S. Wave Energy Prize in 2016 and has secured $19M in contracts with the US Department of Energy, allowing it to upscale to a second product line.
Also in the wave energy sector, Ecowave Power (Israel) was founded in 2011 to produce clean affordable electricity from ocean and sea waves, using a technology that is attached to the shoreline. Floaters are attached to existing structures such as jetties and move up and down, producing and sending clean energy to the grid. A power station was installed in Jaffa in 2014, and another in Gibraltar in 2016, and Ecowave has secured 325 MW of projects worldwide.
Floating Power Plant (Denmark) is taking combined floating wind- and wave-technology to market. Its technology consists in a floating platform built out of modular panels, a turbine, a single-point mooring system, and a subsea grid to bring the power to shore. Over the past 10 years, Floating Power Plant has tested out its concept in four offshore settings. It is currently conducting certification testing and seeking out large-scale grid-connected projects, focusing on the electrification of oil-and-gas and of remote islands.
Complementary to these approaches, the SWAC technology developed by Geocean, a VINCI Group company, saves energy by leveraging the temperature of the ocean and the sea to produce cooling, the need for which is expected to triple within the next 30 years. SWAC pumps and circulates ocean water in an open or closed loop to cool buildings. The water is heated back up to surface temperature and rejected back into the sea, without treatment, protecting the environment and avoiding visual disruption. SWAC clients include hotels and hospitals, mostly in the Pacific Ocean and on La Réunion. The technology's potential is significant for islands, which struggle to produce clean energy and have strong cooling needs.
This event is the second in a new cycle organized by Leonard in partnership with the Sustainable Ocean Alliance, which will examine prospects for marine energy development, the future of ports and infrastructure, and the resilience of coasts and marine ecosystems. Register to attend upcoming event, "A phantom threat? Coastal areas facing rising sea levels and retreating coastline"! – Please note that the event will be held in French, English subtitles will be available with the replay.
– In French only: at 3:45 pm, take part in the workshop "L'océan commence en ville", to make visible the invisible impacts of our societies on the oceans and understand the resulting global emergency. An event animated by Alice Vitoux, President of the "La Fresque Océane" association.