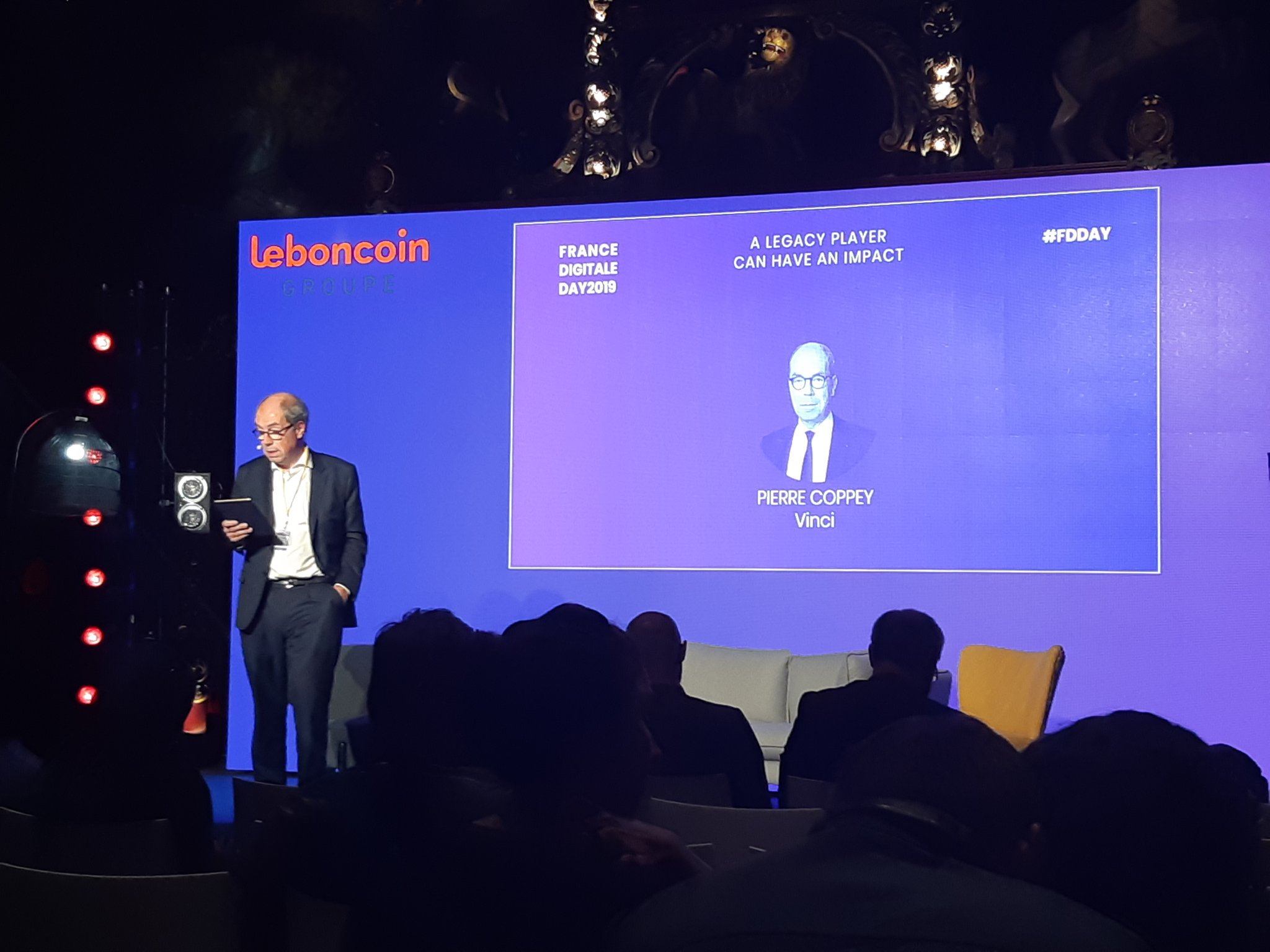 New partnerships to tackle the ecological challenges
During France Digitale Day 2019, Pierre Coppey, Executive Vice-President of VINCI, called for new cooperations between startups and VINCI.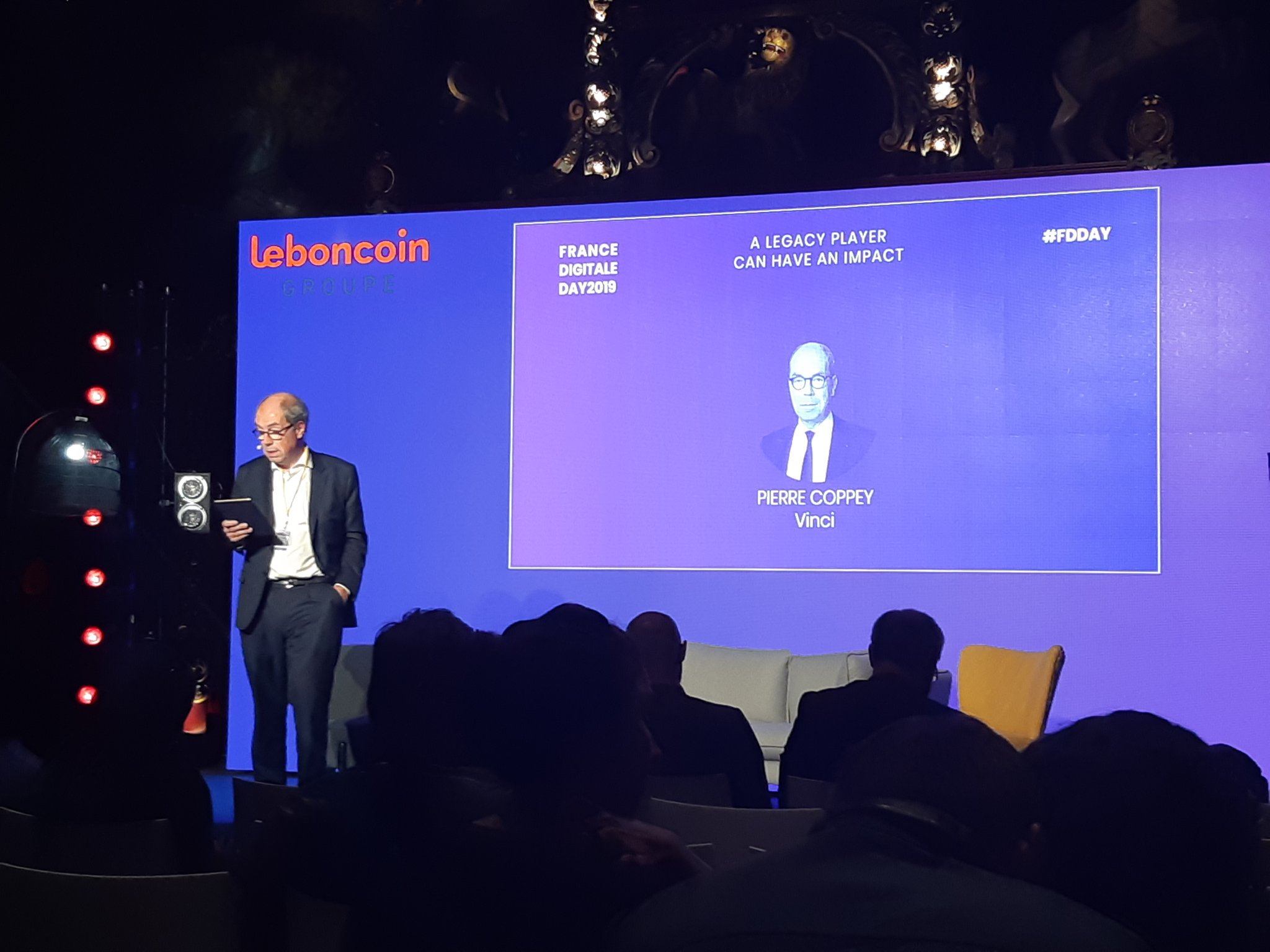 Good afternoon,
I am happy to have the opportunity to speak today in front of such an impressive audience.
For most of you, I come from a remote continent, probably as unfitted to our modern era as dinosaurs. Yet, VINCI, my company, is not stuck in prehistoric times. We design, finance, build and operate the most up-to-date infrastructures and facilities in the world, with more than 200 000 people in 100 countries. Our engineers are proud of building bridges, roads, motorways, urban infrastructures, but they are even prouder when they find solutions to create some of the most complex or beautiful contemporary structures, such as the Louis Vuitton Foundation in Paris, the new arch to isolate the Chernobyl nuclear plant, the TGV high speed train line that puts Bordeaux just 2 hours from Paris or a coastal road built 30 meters above the ocean on Reunion island.
Yes, we are what we are, a true brick and mortar company with a compelling track record in concessions and services as well. But we also love and embrace challenges. Ten years ago, we identified climate change as the most pressing challenge of our time, and we decided to take action. As you know, raw materials for building roads and infrastructures, namely concrete and bitumen, both have a very bad carbon footprint due to the heating and oil necessary to their production. We also know that in 2050, three out of four human beings will live in urban areas. Worldwide, those urban areas already account for 70% of carbon emissions: this reality makes our job incredibly important for billions of people. Humanity wants to move, work and live in cities that not only have to be attractive and liveable but that need to positively contribute to reaching the Paris Agreement goals on climate change. For us, this is a massive, urgent and vital call to action. Collectively, we simply have no choice but to move fast. Individually, at the company level, we face an incredibly simple and complex challenge. This challenge is as simple as the number zero can be: VINCI – as everybody in this room, by the way – needs to reach zero-net carbon emissions by 2050. It means creating positive-energy buildings, designing infrastructures that are resilient to extreme climate scenarios, facilitating the use of electric or hydrogen cars, protecting biodiversity. But this challenge is a complex and disturbing call for business people and engineers. The reality is that nobody knows how to get there. To put it bluntly, a zero-net carbon world is at the same time a no-brainer, an excitement and a black box.
But there is no alternative. To get there, we need more collective action, we need to boost innovation and we need to accelerate the transformation of all our business units.
At VINCI, we chose to develop three types of actions.
First, our executive committee decided to embrace the most ambitious environmental goals ever for the company, which will lead to 40% carbon reduction in 2030, with joint actions on biodiversity, water use reduction and recycling. This is a first milestone on the Paris Agreement roadmap.
Second, we launched breakthrough innovation programs. Some of them are already on the market, such as our roads made of 100% recycled materials; dedicated infrastructure and digital services for car-sharing and car-pooling on our highways; isolation skin for buildings… Some others are currently tested, such as our induction-charging road that will allow you to recharge your electric car while driving.
But this is not enough. In order to drive successful transformation we couldn't rely on our sole capacity to innovate. That is why two years ago we created LEONARD, VINCI's corporate incubator and foresight organization. Yes, we are engineers with little imagination for naming! LEONARD is located only a few blocks from here, and you are most welcome to pay a visit. There, you will discover the largest infrastructure, mobility and construction tech incubator in Europe, with more than 5000 square meters dedicated to start-ups, intrapreneurs and public events on the future of our markets and technologies. There, we develop long-term transformation roadmaps across business units that usually stand alone. We foster fruitful collaboration between our employees and academics, VCs, innovators, entrepreneurs. We grow and accelerate start-ups, whether born from the imagination of our own employees or from external talents. In addition to what all incubators do, we provide them with an invaluable access to our business units, so that they can pitch, assess, experiment and deploy their solutions with us on real-life environments. This opportunity gives them a tremendous advantage in terms of time to market, but also of business and technological relevance. A few days ago, we launched two new acceleration programs dedicated to pre-seed startups (SEED) and more mature ventures (CATALYST) in relationship with our Construction / Mobility / Real Estate / Sustainable City and Energy business units. The aim of the SEED program is to support start-ups in the validation of their market and the refinement of their product or service during a four-month program. The 20 startups selected each year will benefit from the support of the Leonard team, participate in a startup curriculum recognized by Stanford University, gain contacts with experts from the VINCI group, receive cash and free accommodation for the duration of the program. The CATALYST program aims to support the creation of joint projects between startups, scale-up, SMEs and VINCI. The teams from Leonard are dedicated to securing those projects to make them value-added partnerships and not mere 'proofs of concept' with little transformative impact on the businesses of VINCI.
We believe that those programs make sense both for our ecosystem and for us as a company that needs to stay ahead of competition with profitable products and services that are useful to people's lives.
But in the end, it is not only about making money. That is the easy part. It is about building new partnerships and fostering open mindsets to contribute to the common good. You may remember what Paul Valery famously wrote: "We, civilizations, we now know that we are mortal" ("Nous autres, civilisations, nous savons maintenant que nous sommes mortelles"). It was exactly a century ago, right after the First World War. Since then, we know that eternity is behind us. Today, when we look ahead, we understand that we face another kind of war, a war against ourselves, against a collective disaster. We are all on the same boat. There is no other choice than fighting together: corporates, startups, investors, government, cities, local communities.
Looking forward to meeting you at Leonard's. Thank you.