Over the course of three years, the SEED program has supported 30 start-ups that offer innovative solutions in the construction (60%), mobility (14%), energy (13%), and property (13%) sectors. These start-ups have raised €11.4 million and generated sales of nearly €5 million in 2022. Since Leonard's establishment in 2017, the intrapreneurs program has already supported over 60 innovative business projects initiated by VINCI employees. Sixteen of these projects have become emblematic examples of the Group's renewed offerings. For instance, Nooco, a VINCI Energies subsidiary born out of the intrapreneurs' journey, has recently been acquired by energy efficiency specialist Deepki.
The SEED program is aimed at start-ups in the pre-seed phase. Selected companies will receive a financial contribution of €30,000, six months of accommodation at Leonard, the support of an external mentor and a VINCI mentor, certified entrepreneurial training, access to a catalog of experts for tailored support, and the opportunity to participate in the Demo Day and connect with VINCI entities.
Demo Day serves as a milestone for startups and VINCI intrapreneurs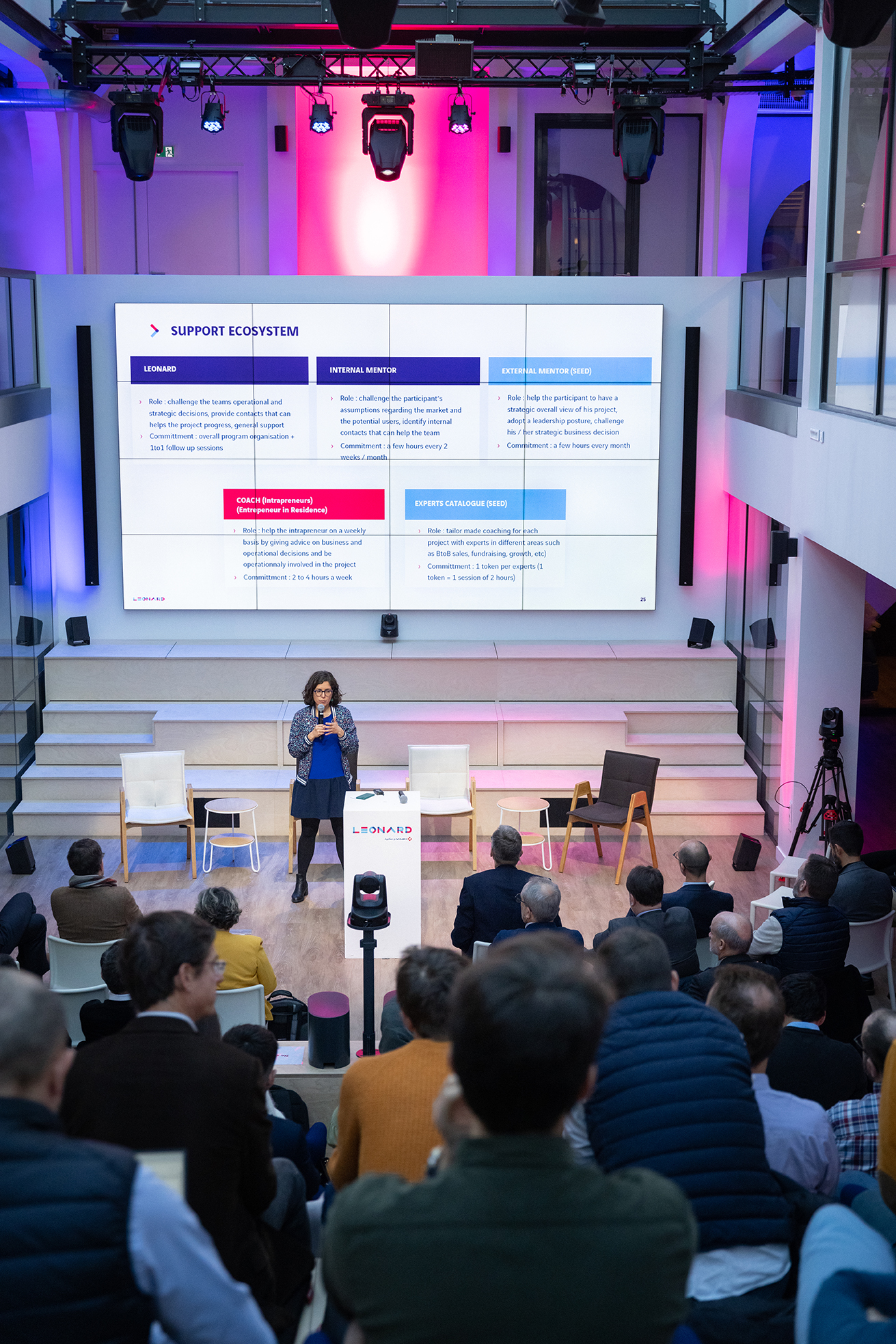 The 2023 edition took place at Leonard's premises, where eight intrapreneur projects and ten start-ups that were accelerated since January presented their innovative solutions to an international jury of VINCI managers and investors. Experts and Leonard partners, including Gonzalo Galindo, CEO of the Cemex Ventures fund; Clara Audry, Partner at Jolt Capital; and Céline Jullien, Director of Cleantech for France, were also in attendance.
The eight intrapreneurs' projects supported by Leonard this year stand out due to the diversity of their themes, such as carbon capture, 3D printing of recyclable materials, waste heat recovery, construction operations planning, accelerated deployment of geothermal energy, and road infrastructure management. They also hail from various countries, including Colombia, Germany, Canada, the United Kingdom, and France. The projects selected by the jury at the end of the Demo Day will continue their acceleration process starting from September and will join the 16 projects that preceded them in becoming independent companies and activities at VINCI.
After refining their business models and consolidating their solutions through meetings with over 200 VINCI practitioners, the ten start-ups in the SEED program will seek funding, particularly from the investors they met at the Demo Day. Ostrea, a start-up from the 2023 Class, which is developing a low-carbon eco-material based on oyster shells manufactured in France, recently announced that it had raised €1.2 million to scale up production to an industrial scale.