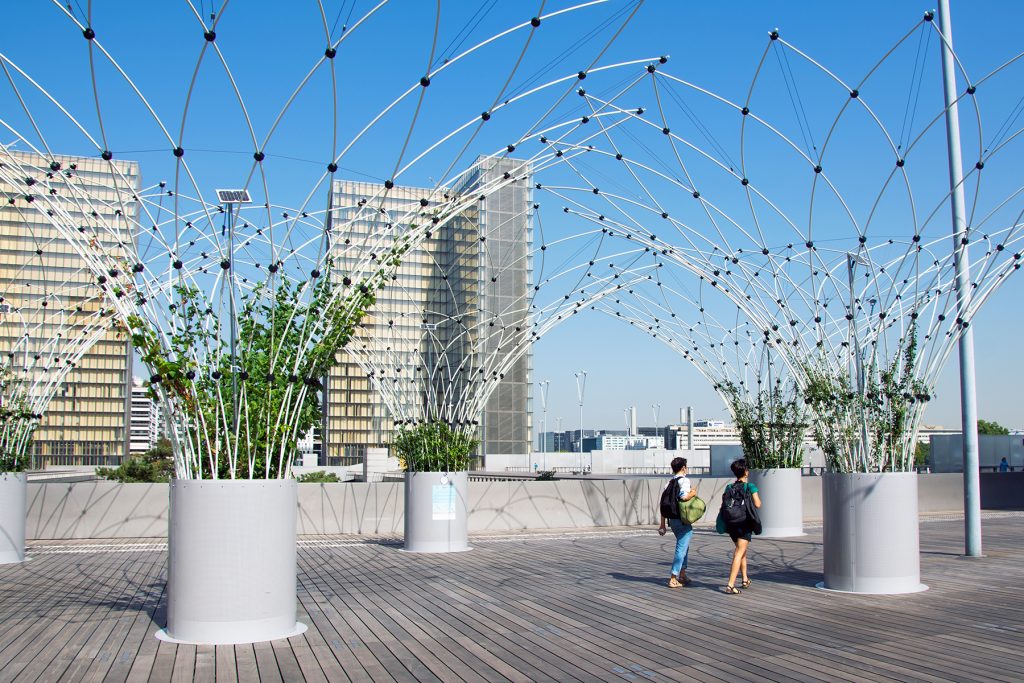 Urban Canopee raises €1.7 million to help make cities greener and cooler
The French startup Urban Canopee, from the Navier research lab at the École Nationale des Ponts et Chaussées, has just secured €1.7 million in funding. The money was raised from the Banque des Territoires and BTP Capital Investissement, as part of the Territoires d'innovation initiative as part of the PIA (Programme d'Investissements d'Avenir – Investments for the Future Program), and the "Construire au Futur, Habiter le Futur" (Build the Future, Live the Future) project lead by the Île-de-France region.
Urban Canopee has been designing and installing green urban furniture since 2016. Its "Corolle" (or "petals") solution fulfills one major objective: to cool down cities by using plants. Climbing plants grow up these canopy-like structures providing fresh, cool air pockets. Integrated into each structure is an innovative irrigation system that's connected, autonomous and prevents water waste. This solution is designed to combat heat islands by creating cool pockets of air, as well as helping to restore urban biodiversity, combat air pollution and improve the quality of life in general for city dwellers.
The startup is certified by GreenTech Innovation, B Corp, Tech Challenge C40 Cities and Solar Impulse and was incubated at Station F, Cité Descartes and Green Tech Verte at l'Ecole des Ponts. Around 50 of these structures have already been installed in cities across France (Toulouse, Marseille, Reims, Saint Denis, Paris…) and even abroad, making it as far as Australia. The startup intends to use the funding to expand abroad as it has done in France.
Versatile attracts $20 million in investment thanks to its CraneView
The California-based construction tech startup Versatile recently raised $20 million in Series A funding round, adding to the $8.5 million raised since it was founded in 2016 in Tel Aviv. The investment comes from Insight Partners and Entree Capital, alongside other legendary business investors (Robert Bosch Venture Capital GmbH, Root Ventures and Conductive Ventures).
The team behind Versatile has developed a tool called CraneView. It can be fixed to any crane and captures in real time all movements on a construction site, converting them into data which can be used to make better business decisions. This information can also be used to improve onsite security and safety, increase the likelihood that project deadlines are met, improve construction quality and increase onsite productivity and efficiency.
Thanks to this funding, the company is looking to improve its algorithms and bring its tool to market faster.
Smartvid.io raises $5 million for its AI-powered construction site safety tool
Smartvid.io creates AI-powered tools using image recognition to improve construction site safety. The company announced a $5 million round of new funding, bringing the total amount of funding raised since its creation in 2015 in Cambridge, Massachusetts to $21 million. Investors include IA Capital Group (New York insurtech and fintech investors) and Sony Innovation Fund (an investment fund from the Japanese giant), as well as other major business investors (Building Ventures, Companyon Ventures and Converge). Before this round of funding in November 2020, Smartio had also raised $4.6 million in convertible debt financing from Future Ventures.
Smartvid.io's tools are used to predict and prevent the risk of accident on construction sites, by analyzing images and videos taken onsite. Smartvid.io's AI tool, Vinnie, uses these observations and analysis to create dashboards that reduce the rate of accident by 30% or more.
In the space of a few years, Smartvid.io's tools have managed to seduce not only big names in the construction industry, but also insurers in the US, Europe and Japan. 2020 was a big year for the startup: the health crisis provided the right context for it to demonstrate its technology's worth, as it can be used to ensure workers are wearing face coverings on site and social distancing is respected.
Since 2019, the company has enjoyed support from Leonard's CATALYST program, which provides the most mature innovative solutions with the means to deploy their services and products in partnership with VINCI's business units.