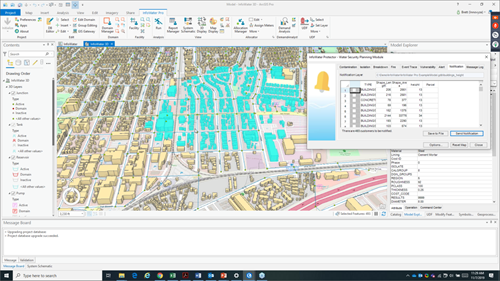 In Denmark, pre-fabricated modular façade panels coming to energy renovation's rescue
Insulating old buildings from the outside using prefabricated panels inspired by Ikea kitchens? That's the aim behind the REBUS project (REnovating BUildings Sustainably), launched in Denmark by the architecture practice Henning Larsen, in collaboration with eight partners: Danish Technological Institute, Technical University of Denmark (DTU), Aalborg Universitet/SBI, Frederikshavn Housing Association, Himmerland Housing Association, Enemærke & Petersen A/S, Saint-Gobain Denmark A/S and COWI A/S.
To begin with, the project initiators are tackling 60s and 70s social housing, whose energy efficiency is in dire need of improving. There's a significant need nationwide and the proposed solution could significantly reduce costs for home owners and make living conditions better for residents.
Similar to an Ikea kitchen which is based on a function of interchangeable fronts, REBUS creates panels that clip on to existing facades, so there's no need to knock down walls and residents can stay in place during renovations. In addition to added insulation and reduced energy bills, residents will see their standard of living increase, as they can choose from a range of different windows and balconies that let more light inside their apartment.
The first installation was met with delays due to the pandemic. A pilot worksite in the outskirts of Copenhagen initially planned for 2020 will be launched this year. It will act as the opportunity to improve and optimize the product and the process, before a large-scale rollout is considered.
Innovyze, specialist in predictive hydraulic modelling solutions, is acquired by Autodesk for $1 billion.
Innovyze is no longer a startup. Based in Portland, Oregon, for over 35 years, the company develops innovative software for the water industry. It has more than 3,000 international clients, including water infrastructure managers in major cities around the world and local authorities as well as firms speciliazing in environmental engineering. Their experience convinced Autodesk to spend $1 billion to acquire the company.
The computer-aided design software giant already bought the startup Spacemaker in November, which creates artificial intelligence solutions for developers and architects. It now has a full suite of modelling, simulation and predictive analytics solutions for water distribution recovery networks, water treatment plants and flood prevention systems.
These tools were already partially connected to Autodesk's solutions. Their acquisition will strengthen ties between the two, allowing Autodesk to position itself as the leader in end-to-end water infrastructure management solutions, from design to operation. Autodesk is also accelerating in its digital twin strategy with this acquisition.
Skydio raises $170 million for enterprise drones
Californian startup Skydio is now worth $1 billion, after raising $170 million in a Series D funding round led by Andreessen Horowitz's growth fund, a16z. other investors who participated in the round include Lines Capital, Next47, IVP and UP.Partners, doubling the amount of funds raised since the company was founded in 2014. This is the largest valuation for a drone maker in the world.
Initially focused on the consumer drone market, Skydio's drones have gradually won over manufacturers, who are now the company's main clientele. Skydio's drones stood thanks to the quality of their obstacle detection and avoidance tools. The company has gradually enhanced its enterprise solutions, leading to the launch of the autonomous X2 drone in 2020. Equipped with seven cameras with a 100x zoom capacity, plus night vision and autonomous functions, it's the company's most complete product yet.
The device has already won over construction companies, fire departments, construction specialists and infrastructure managers around the world. For example, in North Carolina, Skydio's drones have been deployed to inspect some 13,500 bridges located across the state.
On top of the $100 million already raised in July 2020, this $171 million will enable Skydio to accelerate its shift towards B2B.
There's more: