According to figures provided by the Social Security, 91% of recognised occupational illnesses in the building and public works sector are linked to MSDs (musculoskeletal disorders), with 40% of stoppages linked to back pain. In addition, accidents account for 8 million working days lost each year in France alone, at a direct cost of more than 1 billion euros. On construction sites, repetitive, strenuous and dangerous tasks remain a real scourge.
On Tuesday 29 March, Leonard hosted the robotic industrial solutions developed by the company Robots for Site, which aim to reduce drudgery, illness and accidents, while improving the productivity of a production site. It operates as a joint venture between VINCI Energies, VINCI Construction and Eurovia.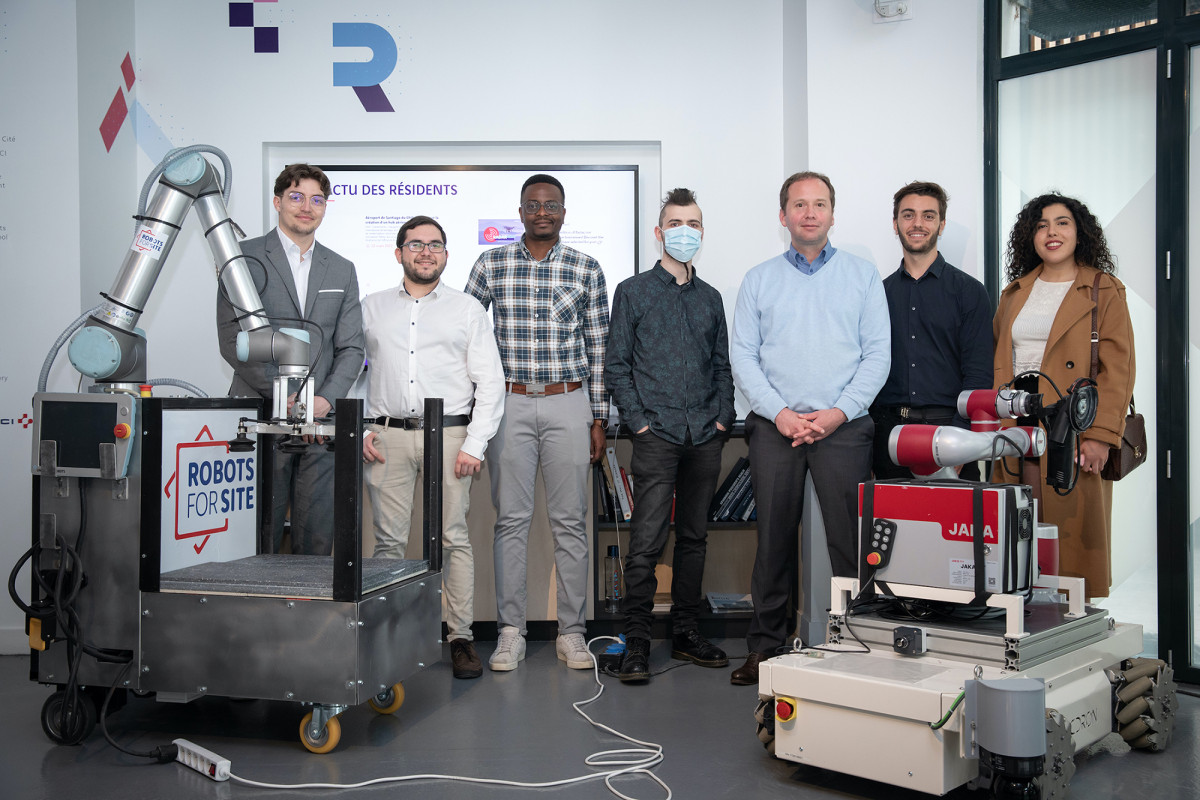 "People care" technologies
With the tiling robot and the drilling robot, Robots for site has already successfully tested the automation of two particularly tiring tasks on building sites. "On the Greater Paris project, the tiles each weigh 15 kg. As far as drilling is concerned, the tool weighs 10 kg" explains Francis Kalmbacher, R&D Director of Robots for site.
For the operators, the gain is tangible because the robot almost completely avoids human intervention. To achieve this result, Robots for Site relies on AI for image processing and trajectory calculation, as well as on modular technological building blocks – mechanical platform, robotic arms, sensors, geolocation tool – that can be assembled together to meet a specific problem.
A new era
The aim of Robots for Site is to make the technology as intuitive and simple as possible to use on site. "It's industrial plug & play with the bare minimum of programming. You just have to follow the instructions in the interface," says Francis Kalmbacher. The productivity gain is also being measured.
In order to establish itself on building sites, Robots for Site wants to go even further and drive a real revolution in processes "by accompanying, training, maintaining and helping to define the needs behind robotisation", emphasises Pierre Barcelo, the company director of this fast-growing start-up.
While feedback from the first prototypes deployed on site has led to the design of improved versions, Robots for Site, which was incubated in 2017 by Leonard as part of the Intrapreneurs pathway, intends to accelerate and robotise all of the arduous, repetitive and dangerous tasks in the construction industry, in order to make the sector more attractive and more technological. "These solutions not only meet the requirement of "responsible subcontracting" but also allow operators to reappropriate their jobs and be more efficient" concludes Jérôme Aubry, RD Director of VINCI Construction and a client of Robots for Site.
Photo credits: Alexis Toureau
To go further, see the replay of the round table organised by Leonard (in French):
« Robots, exosquelettes… À la rencontre des nouvelles équipes de chantier »
and read BatiActu's report