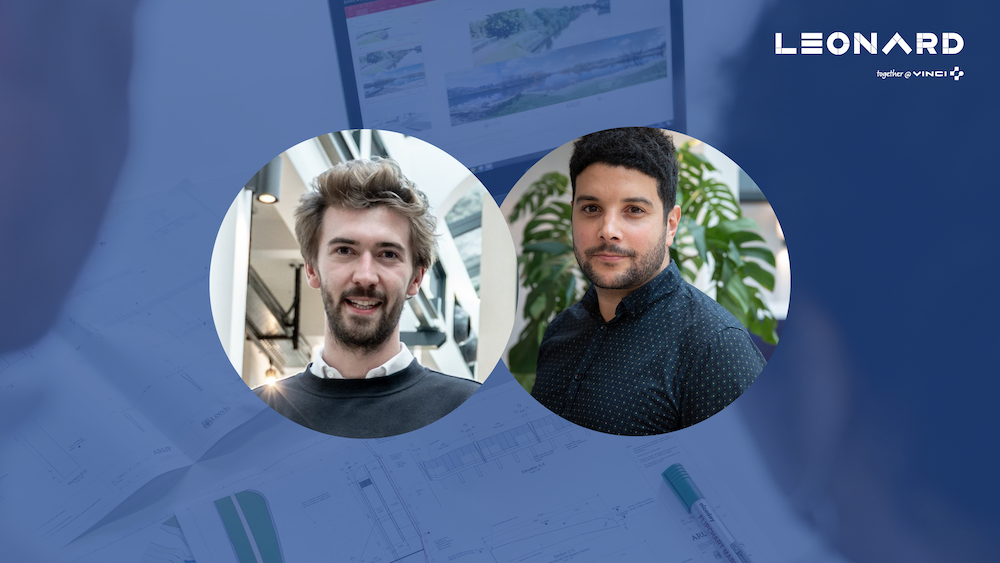 Arsenio, who is hosted by Leonard, specialises in training in BIM tools and more generally in digital tools for construction. 
Hosted in residence by Leonard, the teams at La Solive offer professional retraining courses in an intensive format dedicated to energy renovation.  
What is your assessment of the skills shortage in the construction sector?
Côme de Cossé Brissac: The energy renovation sector is currently facing a labour shortage that is only getting worse. Craftsmen and companies are struggling to recruit qualified profiles to keep up with the pace, and this concerns all profiles … Heating engineers, on heat pumps and wood stoves, facade builders, on thermal insulation from the outside, as well as commercial and more versatile profiles who accompany homeowners in their projects. 
Karim Fathi: The construction sector is currently undergoing a transformation, the success of which depends in particular on the digital transition. However, we note that BIM (building information modelling) and its advantages are still poorly understood, with a lack of skills within companies. Take an issue such as the management of waste and resources from a deconstructed building, which are not sufficiently valued due to a lack of easily accessible data. Unlike traditional methods, BIM allows traceability, classification and hierarchy of this data which can promote a more circular economy. 
How do you respond to this?
Karim Fathi: We have created a bootcamp and an educational platform for training in BIM and sustainable construction for people who are professionals in the construction industry and who will be best placed to use these digital innovations. These training courses are aimed at employees for whom the programme can be flexible with e-learning courses, mentors and projects to be carried out in a flexible manner. For jobseekers, it is a bootcamp, an intensive training course lasting several weeks that leads to a diploma (Level 6). 
Côme de Cossé Brissac: La Solive responds to this shortage by supporting people in professional reconversion towards these jobs in tension. We also offer three to four month bootcamps which aim to be highly professional. It is necessary to seek skills in other professional sectors to meet the needs of the construction world, and these people are generally looking for a rapid retraining, hence the short and intense format, which allows them to start directly at the end of the training. 
What is the profile of the people who participate in your programmes?
Côme de Cossé Brissac: The people we support come from all sectors! Some currently have a rather administrative position in an office and come to find a more "field" job in the service of the ecological transition. Others are in more commercial positions and are looking to sell products that make sense and in which they believe. Finally, some of them are looking for a future sector to set up their own business or a company: the energy renovation sector is particularly well suited to this! 
Karim Fathi: The people who take part in our programmes have become aware of the growing importance of digital technology in the various sectors of the construction industry. We find architects, site managers, structural engineers, thermal engineers, project designers, real estate diagnosticians, creators of construction start-ups and even works managers… We organise the classes so as to have different visions of the act of building in order to allow a collective intelligence to emerge at each session. 
How do you perceive the change in perception of the construction trades? What still needs to be improved?
Côme De Cossé Brissac: Revaluing the construction trades is part of La Solive's raison d'être! With energy renovation, we are convinced that there is a real opportunity for the building trades. By combining ecological awareness and the increase in energy costs, we find ourselves with a sector that is full of future meaning, concrete jobs that can be done anywhere and that pay well… It's a sector that is starting to be desired! 
Karim Fathi: Until recently, construction was still perceived as a field that was impervious to all technological innovation. However, many things have changed radically: communication, project visualization, plan review meetings, work phasing, cost management, taking into account the environmental impact… When we discover the dimensions of BIM, we realize that it is a logical innovation that will allow us to achieve our energy transition objectives if it becomes more widespread. 
What are your development prospects for the coming years?
Karim Fathi: We want to continue to decompartmentalise BIM, which is still seen as a technology that is too distant from the reality of construction sites. We are going to increase our bootcamps and the development of our platform on which learners are already exchanging information from several French cities. This hybrid format makes it possible to follow the bootcamps remotely and to benefit from interaction with the other participants. Other campuses are already being considered in several French cities. We are opening a branch in Morocco to expand into Africa, and we are targeting other cities in Europe. 
Côme de Cossé Brissac: La Solive's adventure is still in its infancy, as we have been in existence for barely a year, but we realise how much more there is to come. Indeed, we consider that to reach our energy renovation objectives, we need to train 400,000 people by 2030! Our goal is to support more than two thousand people per year on ten or so campuses by 2025.  
Karim Fathi, CEO of Arsenio: karim@arsenio.co
Côme de Cossé Brissac, co-founder of La Solive: come@la-solive.com